FEATURES: Letter Matching Card Game is a popular educational game designed for children. It includes a set of alphanumeric cards and alphanumeric wooden blocks. The game is played by matching the letter cards with the corresponding wooden letters on the cards. The cards contain some interesting and colorful illustrations that relate to the content of the card.
SAFE AND HIGH-QUALITY MATERIAL: This game is made of high-quality materials and finished with non-toxic paints or stains. It doesn't have any sharp edges making it safe for children. It is sturdy and durable, and it can withstand the wear and tear of regular play. The toy is also easy to maintain, making it a popular choice for parents and caregivers.

IMPROVES COGNITIVE THINKING: Letter Matching Card is a great game for developing letter recognition skills and improving vocabulary. It is also a fun way to reinforce spelling and improve memory skills. The game is suitable for players of ages above 3 years and can be played individually or in teams. Overall, it is a fun and educational game that is sure to entertain and challenge children.
HOW TO PLAY:
This letter matching kit includes 36 play cards displaying the numbers and their spelling from 1-10 and 26 alphabets along with pictures and spelling of animals having their initials with that particular alphabet. Children can learn about the alphabet and numbers just by matching the wooden blocks with the cutout made over each play card. The wooden stick included in the kit can be used for pointing out the letters on the card.
Have a Question?
Be the first to ask a question about this.
Ask a Question
| | | |
| --- | --- | --- |
| Brand | : | Kreativity |
| Generic Name of Product | : | Plastic Puzzle |
| Material | : | Wooden |
| Dimensions (mm) | : | 270x270x40 |
| Product Weight | : | 538 grams |
| Package Weight | : | 653 grams |
| Package Contents | : | 10 wooden numbers, 26 wooden alphabets, 36 flash cards, 1 wooden stick, 1 bag |
| Imported By | : | Mamta Enterprises, Amrut Bhawan, Mumbai Central, Mumbai, India |
| Marketed By | : | Brainlytic Solutions Pvt Ltd, Sunder Nagar, Raipur CG India |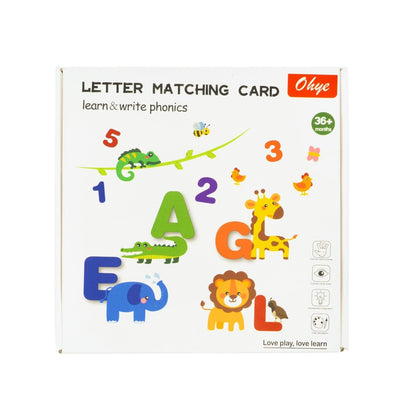 Letter Matching Card Game