FEATURES: The Alphabet & Number Learning Board is an educational toy that is designed to help children learn the alphabet and basic numeracy skills through play. It consists of a board made of wood with various cutouts for each letter of the alphabet and the numbers 0-9.
HIGH QUALITY MATERIAL: The Alphabet & Number Learning Board is made of high-quality wood and finished with non-toxic paints. It has smooth and round edges making it safe for children. It is sturdy and durable, and it can withstand the wear and tear of regular play. The toy is also easy to clean and maintain, making it a popular choice for parents and caregivers.
BENEFITS: Each letter and number is made of wood and can be removed from the board and replaced in its correct place. This allows children to practice matching the letters and numbers to their respective slots on the board, while also developing fine motor skills as they manipulate the wooden pieces. It also includes pictures or illustrations next to each letter or number, making it easier for children to associate them with real-world objects and concepts.
CREATIVE LEARNING FOR KIDS: Overall, the Alphabet & Number Learning Board is a fun and interactive way for young children to learn and practice basic literacy and numeracy skills. It is a timeless classic that has been enjoyed by generations of children and continues to be a popular educational toy today.
HOW TO PLAY: The Alphabet & Number learning Board features cutouts that correspond to the shapes of wooden blocks, which must be placed into the appropriate cutout. This activity can aid children in comprehending numbers, shapes, mathematical symbols, and the alphabet. Moreover, it can assist with developing skills in spelling words and counting numbers.
Have a Question?
Be the first to ask a question about this.
Ask a Question
| | | |
| --- | --- | --- |
| Brand | : | Kreativity |
| Generic Name of Product | : | Plastic Puzzle |
| Material | : | Wooden |
| Dimensions (mm) | : | 297x224x16 |
| Product Weight | : | 407 grams |
| Package Weight | : | 407 grams |
| Package Contents | : | 49 Wooden blocks (26 alphabets, 0-9 numbers, 7 calculation symbols, 6 shapes), 2 wooden board |
| Imported By | : | Mamta Enterprises, Amrut Bhawan, Mumbai Central, Mumbai, India |
| Marketed By | : | Brainlytic Solutions Pvt Ltd, Sunder Nagar, Raipur CG India |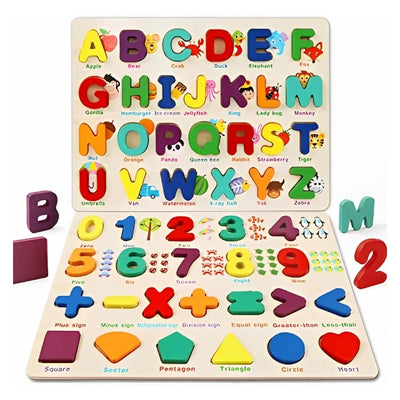 Alphabet & Number Learning Board (Wooden)