FEATURES: Wooden stone building blocks are a classic children's toy consisting of a set of blocks made of wood, in various shapes and sizes. The blocks are designed to be stacked on top of each other to create structures and towers of different heights and shapes.
SAFE & HIGH-QUALITY MATERIAL: The blocks are made from high-quality, solid wood and are carefully sanded and finished to ensure smooth surfaces and safe edges. The toy comes with blocks painted in bright colors to add visual interest. In addition to being a fun and educational toy for children, wooden stone building blocks are also durable and long-lasting. They can be passed down from generation to generation, making them timeless and beloved toys that can provide hours of entertainment and learning for children of all ages.
BENEFITS: Children can use their imaginations to build a wide range of structures with multiple levels and intricate designs. The toy helps children develop their creativity, spatial reasoning skills, and hand-eye coordination as they manipulate the blocks to create their desired structures.
HOW TO PLAY: The wooden Blocks can be stacked over each other to create a variety of structures.
Have a Question?
Be the first to ask a question about this.
Ask a Question
| | | |
| --- | --- | --- |
| Brand | : | Kreativity |
| M.R.P. | : | ₹ 1099.00 (incl. of all taxes) |
| Generic Name of Product | : | Plastic Puzzle |
| Material | : | Wooden |
| Dimensions (mm) | : | 210x150x40 |
| Product Weight | : | 245 grams |
| Package Weight | : | 322 grams |
| Package Contents | : | 20 Colorful wooden blocks |
| Imported By | : | Mamta Enterprises, Amrut Bhawan, Mumbai Central, Mumbai, India |
| Marketed By | : | Brainlytic Solutions Pvt Ltd, Sunder Nagar, Raipur CG India |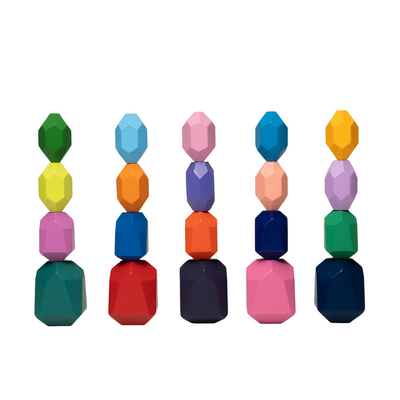 Wooden Stone Building Blocks