FEATURES: I Love Mathematics Learning Kit is a fun and educational tool designed to make learning math enjoyable for children. The kit contains a variety of materials and activities that aim to teach various mathematical concepts and skills, such as counting, addition, subtraction, multiplication, division, geometry, fractions, and more.
SAFE AND HIGH-QUALITY MATERIAL: The Maths learning kit is typically made of high-quality materials and finished with non-toxic paints or stains. It doesn't have any sharp edges making it safe for children. It is sturdy and durable, and it can withstand the wear and tear of regular play. The toy is also easy to maintain, making it a popular choice for parents and caregivers.
BENEFICIAL LEARNING KIT: One of the key features of the Maths learning kit is its emphasis on making math fun and accessible for kids. The kit is designed to help children develop a positive attitude towards math, build their confidence in math skills, and encourage them to explore the world of mathematics. It also promotes color and number recognition, and logical and creative thinking among the children.
PLAY ANYWHERE, ANYTIME: Overall, the Maths learning kit is an excellent resource for parents and educators who want to help children develop their math skills and foster a love for math. It provides an engaging and enjoyable way to learn math and can supplement classroom instruction or homeschooling curriculum.
HOW TO PLAY:
I Love Mathematics Learning Kit includes a wooden double-sided slidable ruler that helps you identify the addition and subtraction between digits 0-10. One side of the ruler shows various addition combinations among different numbers less than that number similarly the other side of the ruler shows various subtraction combinations among the remaining digits. there are wooden number blocks as well as wooden sticks so that you can perform your own mathematical operations.
Have a Question?
Be the first to ask a question about this.
Ask a Question
| | | |
| --- | --- | --- |
| Brand | : | Kreativity |
| M.R.P. | : | ₹ 649.00 (incl. of all taxes) |
| Generic Name of Product | : | Plastic Puzzle |
| Material | : | Wooden |
| Dimensions (mm) | : | 275x160x40 |
| Product Weight | : | 261 grams |
| Package Weight | : | 337 grams |
| Package Contents | : | 25 wooden blocks, 104 wooden sticks, 1 wooden slidable ruler, 1 bag |
| Imported By | : | Mamta Enterprises, Amrut Bhawan, Mumbai Central, Mumbai, India |
| Marketed By | : | Brainlytic Solutions Pvt Ltd, Sunder Nagar, Raipur CG India |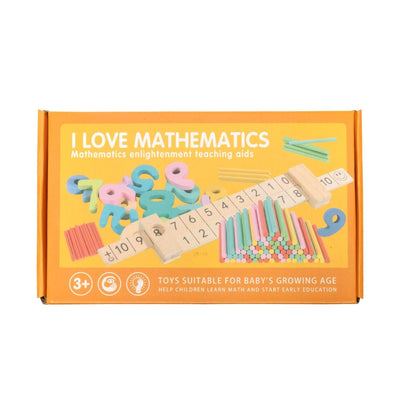 I Love Mathematics Learning Kit 2