FEATURES: The I Love Mathematics Learning Kit is an educational game designed to teach mathematical concepts to children in a fun and engaging way. This comes with a variety of hands-on materials, such as flash cards, colorful sticks, and other items that are used to help children explore and practice different math skills.
CHILD FRIENDLY: This kit is made of high-quality materials and the wooden numbers have smooth finish without any sharp edges which makes it safe for kids to use. It is made of non-toxic material. It is sturdy and durable, and it can withstand the wear and tear of regular play. The toy is also easy to maintain, making it a popular choice for parents, caregivers and teachers. It can used at home, pre-schools and at kindergarten level.
BENEFITS: The game is suitable for all ages and can be played alone or with friends. It is a great toy for improving hand-eye coordination, dexterity, and concentration. Additionally, the game is a great stress reliever and can help improve focus and mindfulness. The I love Mathematics learning kit is a timeless and simple toy that provides young children with a fun and engaging learning experience.

CREATIVE EDUCATION: The math learning kit focuses on different areas of mathematics like basic arithmetic skills like counting, addition, and subtraction which promotes early learning. They are designed to make math more accessible and enjoyable for children and to help them build their confidence and competence in mathematics.
HOW TO PLAY: This I LOVE MATHEMATICS learning kit includes 10 play cards displaying the counting of numbers from 1-10. Practice your arithmetic skills with 30 math problems present in the rectangular play cards and mark your answer with the marker on it, later you can wipe down your answer and reuse the play cards. you can also use the colorful wooden sticks to learn to count or create your own maths problem.
Have a Question?
Be the first to ask a question about this.
Ask a Question
| | | |
| --- | --- | --- |
| Brand | : | Kreativity |
| Generic Name of Product | : | Plastic Puzzle |
| Material | : | Wood |
| Dimensions (mm) | : | 250x210x40 |
| Product Weight | : | 390 grams |
| Package Weight | : | 485 grams |
| Package Contents | : | 10 wooden number blocks, 10 number flash cards, 30 double sided computation cards , 100 (20x5 color) colorful wooden sticks, 1 temporary marker pen, 1 wiping cloth, 1 carry bag |
| Imported By | : | Mamta Enterprises, Amrut Bhawan, Mumbai Central, Mumbai, India |
| Marketed By | : | Brainlytic Solutions Pvt Ltd, Sunder Nagar, Raipur CG India |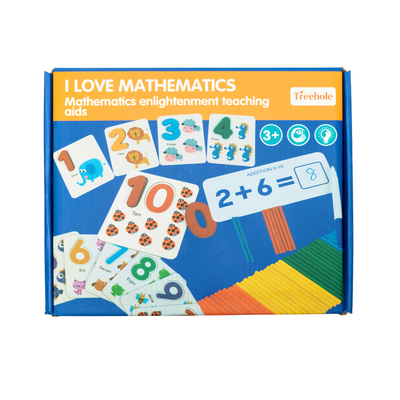 I Love Mathematics Learning Kit 3