DESCRIPTION
Presenting to you the first ever platform dedicated to learn Rubiks cube from the very Experts of cubing community - "xSkills". It is an online learning platform that believes in providing people with a personalized, hands-on, and fun learning experience. Whether you want to start learning how to solve a cube or master speed cubing, our platform is designed to cater to all your cubing needs.

You will get the Beginner course package of 5 Categories for the price of ONE! Sounds Interesting right? It contains below courses:
1. 3x3 Beginner Course
2. 2x2 Beginner Course
3. 4x4 Beginner Course
4. 5x5 Beginner Course
5. 3x3 OH Beginner Course
We ensure you the best learning experience at a very affordable price! This course is just for Rs.199 which includes 2x2, 3x3, 4x4, 5x5 and 3x3 One Handed Beginner Course.

Course Language: English
Subscription: 12 Months
Note: This is not a physical product so please do not expect a product delivery. Credentials to access this course will be mailed on your registered email address. 
Coaches Profiles:
Experience: 7 Years
Expertise : 3x3, 3x3 OH, 4x4, 5x5, 6x6, 7x7
Achievements: He is a 8-time National Record Holder and defending 7x7 National Champion. 
Experience: 13 Years
Expertise : 3x3, 3x3 OH, 3X3 FMC
Achievements: Current Asian Champion for 3x3 OH, 2x Guinness World Record Holder
Amazing course to learn cubing ❤️
Xskillsh online course is good 😊
FAQs
In how much time will I be able to solve the cube after completion of beginner course?

After the Beginner course, one can learn to solve the cube. And using this method with practice, time should come down to 1 min to 1:30 min range.

Is free delivery on??

The course will be in the form of pre recorded sessions and is not a physical product which can be delivered.

My son is fond of cubes. Will it be easy for him to learn cube at this age?

I think you forgot to mention the age. However, the courses are so designed that anyone can learn through them at any age.

Hi, I just bought the beginners course. So I want to know how to access this course now and if any query regarding the course or techniques then how to ask for it.

Once you purchase any xSkills Course, you will get an email to login and reset the password of the xSkills platform. Once you do this, you can see all the courses that you have opted for. 

If you have any questions regarding the course, you can reach out to our customer support. We also conduct a monthly session with coach where you can interact directly with them and ask any doubts that you have.

Where can I see the xskills course?

On our website, click on Learn option in the Main Menu to access all xSkills courses.

Where can I find the courses?

On our website, click on Learn option to access all xSkills courses.

How to claim the package?

Assuming this question is asked as how to opt for these courses, simply go to the Cubelelo website and click on Learn option in the Main Menu to access all xSkills courses.

What is the maximum age limit to join these courses?

There is no age bar to learn these courses. Anyone can opt for it

What is the duration of beginner course? How many classes will be there in a week?

It's a pre-recorded course with a subscription of 1 year, you can watch the course content anytime so there will not be any weekly classes. All the courses in the beginner course bundle are of 3 Hours and 22 minutes duration.
Ask a Question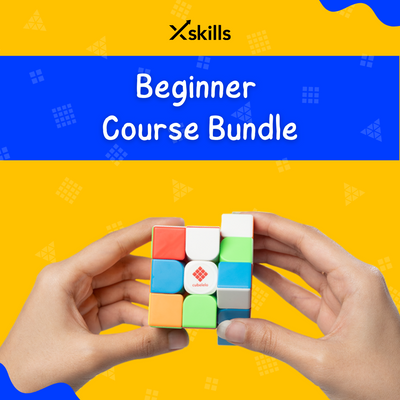 Beginner Course Bundle